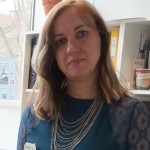 Krista Visas, Pärnu Public Library
Krista Visas is the marketing manager at Pärnu Central Library since 2013 and the vice president of Estonian Librarians Association since 2014. She has acquired the Master's degree of estonian language at Tartu University in 1995. From 1995 – 2008 she worked as a librarian and the head of department at Pärnu Centra Library. From 2008 – 2012 she was the administrative manager of Pärnu Central Library.
Library as a Meeting Place and a Learning Centre
The IFLA trend report helps us to understand where libraries fit into a changing society. The development of new technologies and the aging of society force to make changes in work and tasks of the public library. In addition of lending books the library is also the meeting place for people, there are several cultural events and meetings arranged. Also is the library the place, where the elderly people ask and get help with using modern technical devices and getting on in online world.
In this session we would exchange several experiences how to help seniors to get on in digital world, how to make the library more attractive for the users and the possibilities of public library as the learning centre. The session will be carried out in open discussion, the market of ideas in World Cafe style.
Hannelore Vogt, Cologne Public Library
Dr. Hannelore Vogt is the director of the Cologne Public Library since 2008, one of the biggest library systems in Germany. Before that she was head of the Würzburg City Library which has been the winner in the national library ranking (BIX) four times in row and was elected "Library of the Year". 2015 Cologne City Library was elected "Library of the Year" as best library in Germany.
She is a member of the IFLA Metropolitan Libraries Standing Committee, a longtime chair of the Advisory Board "Information and Library" of the Goethe Institute and worked as a Strategic Advisor and Reviewer for the Bill & Melinda Gates Foundation (Global Libraries, Global Development). Apart from having a degree in Librarianship, she also has a PhD in Cultural Management in the field of library marketing.
She is a consultant for library management worldwide and has many publications to her credit in the field of customer orientation, innovative services and library management.
Always One Step Ahead! Libraries as community centers and hubs for digital inclusion
As the digital world becomes more and more a part of everyone's daily lives, it is critical for libraries to think more deeply about how they might become leaders in using their resources, digital and otherwise. By taking the lead, libraries will continue in their role as community hubs, providing essential services to community members. Future roles of the library, basics of advocacy and how to create advocacy messages will be only some of the points to be discussed.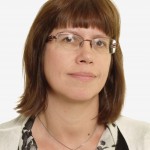 Kristina Pai, Tartu University Library
Kristina is the Director of Collections Development at Tartu University Library since 2001. She is working at the University of Tartu Library since 1985 on different, mainly acquisitions-related positions. She started as a Senior Librarian at the Acquisitions Department, where she was responsible for Foreign Exchanges (Finland, European Union). In 1999-2001 she was the Head of the Department of Estonian Literature.
Kristina studied the Estonian and Finno-Ugric languages at the University of Tartu, Helsinki University and Oulu University.  She is a member of the board of the Estonian Librarians' Association and a member of various working groups. Kristina also enjoy working for the European Association of Research Libraries LIBER, where she is a member of the Programme Committe and the Working Group for Research and Education. Her hobbies include naive art, genealogy and culture, specifically, libraries as an important cultural feature in society. She is interested in the development of libraries in the digital age and in the ways of dealing and coping with rapid changes.
Roles of libraries, roles of librarians – dealing with changes
Due to the digital era, we have seen interesting developments in society. Changes can be found in everyday life, in our habits, and in the usage of libraries.
Sometimes we find it hard to realise that so much has changed. It is even more difficult to accept changes in our libraries, as librarians are, already by default, quite keen on keeping up traditions and rules.
The IFLA Trend Report states that we have to come to terms with the changing world and find new tasks for the libraries inside it. In 50 years ago the computer scientist Gordon Moore voiced the forecast, which is now known as Moore's Law and which is still relevant : the processor power will double every two years. In the past 50 years, the processor power has doubled 33 times. More and more people in the world rely on more and more powerful information technology. We cannot help but need to adapt to this.
In the future, representatives of all fields are not simply lawyers, physicians, security workers, geneticists, etc. – they all are information technology specialists as well. Changes concerning information are essential to libraries.
At the workshop we will try to
define the changes that will have the strongest effect on libraries,
find the ways how libraries could deal with and benefit from these changes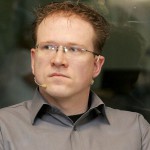 Uldis Zarins, Latvian Librarians Association, National Library of Latvia
Uldis is the director of development at the National Library of Latvia (NLL) and previously has worked at the NLL as the head of strategic development and head of the digital library. His previous career stops include Latvian national news agency LETA, internet portals Apollo and Tvnet, as well as Embassies of the UK and USA. He is a member of EBLIDA Executive Committee, a member Europeana Network Association Members Council and vice-president of Latvian Library Association. Previously he has been a member of IFLA Copyright and other legal matters committee, EBLIDA Expert group on information law and LIBER copyright working group. He holds a master degree in information and library science from University of Latvia. His professional interests include the questions of library future developments, evaluation and impact measurement of library services, digitization of cultural heritage and copyright.
Refugees in our libraries?
On 21st of September EBLIDA issued the Press Release: Public Libraries in Europe Welcome Refugees. Following the press release public libraries across Europe share best practices and examples of activities and services that they provide for both children and adults. At this workshop we will provide overview of activities and services provided by libraries in Austria, Denmark, France, Germany, Italy, Netherlands, Norway and other countries' libraries and will discuss – If (when) refugees will be a reality in Baltic libraries? How to welcome them and what services might be provided? What new skills and resources are needed by libraries to be able to provide services to this special group of library users?